The Case for Amy Coney Barrett | Opinion
Published Date: September 24, 2020 | Topics: Politics and Current Affairs
View Source
---
Robert P. George , McCormick Professor of Jurisprudence and Director of the James Madison Program in American Ideals and Institutions, Princeton University
On 9/24/20 at 9:57 AM EDT

Following the death of Justice Ruth Bader Ginsburg, President Donald Trump announced he would make a nomination to fill the vacancy on the Supreme Court. Senate Majority Leader Mitch McConnell stated that there would be confirmation hearings and a vote on the nominee in the Senate.
The nominee will be a conservative, and almost certainly a jurist who pledges to interpret the Constitution and its provisions in ways that are faithful to the text's original public meaning. The president has also made clear that his nominee will be a woman.
The familiar and widely accepted criteria for evaluating nominees are character, temperament, intellect, experience and judicial philosophy. By those criteria, one of the possible nominees currently under consideration, U.S. Court of Appeals judge Amy Coney Barrett, looks unassailable—probably unbeatable.
No one doubts Judge Barrett's intelligence. She is a noted legal scholar who graduated from Notre Dame Law School first in her class, and has taught, and continues to teach, at her alma mater. After completing her legal education, she clerked at the Supreme Court—for Antonin Scalia—where even those of her fellow clerks whose political beliefs were contrary to hers admired her. One of them, the distinguished Harvard Law School professor Noah Feldman, described her as "a brilliant lawyer."
In selecting clerks, Justice Scalia was noted for two things: choosing only the most intellectually outstanding recent law school graduates, and including in each class of four clerks one "devil's advocate" who did not share his political and jurisprudential views.
Amy Barrett was not the "devil's advocate." She is a conservative. For that reason, many on the progressive side in American politics will oppose her despite her brilliance. Of course, they would oppose anyone nominated by Donald Trump. And they might reason that a brilliant conservative would be worse than a less intellectually gifted one. However that may be, conservatives certainly should want a judge of the highest gifts.
Something all Americans should want in their judges is unquestionable integrity—and Judge Barrett certainly fills that bill. She has throughout her career as a lawyer, law professor and judge exemplified excellence of character and evenness of temper. Like her intellectual gifts, these qualities are not in dispute.
What about experience? She has three years of experience as a sitting judge, and that is not a lot. Still, it is more than the person on the progressive side of the current Supreme Court whose qualities of intellect and character most resemble hers—the formidable Elena Kagan—had. Justice Kagan had not served as a judge prior to being nominated and confirmed to the High Court.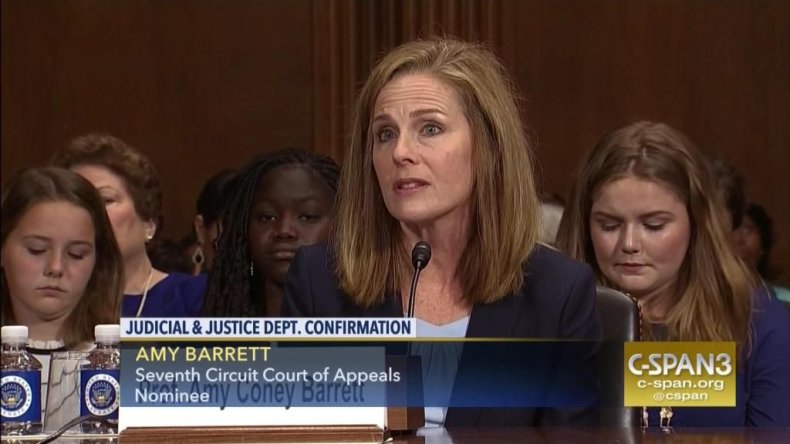 Something that commends Judge Barrett to conservatives, and no doubt to the president, is that as someone still in her 40s she could serve on the Supreme Court for several decades, leaving a deep and lasting mark on our constitutional jurisprudence.
Another consideration in her favor is that Judge Barrett would bring diversity to the Court—and to the national stage. She would remind talented young people around the country that they need not brandish Ivy League credentials to rise to the heights of professional success. All eight current Supreme Court Justices hold law degrees from one of two—and only two—law schools: Harvard and Yale. Amy Coney Barrett would break that duopoly.
She would be only the second Republican woman to serve on the Supreme Court and the first conservative woman. For young women hoping to succeed in law—or in medicine, academia, the media or any other elite profession—Barrett would remind them that there is no one "correct" way for a woman to think. Women are liberals, like Ruth Bader Ginsburg; moderates, like Sandra Day O'Connor; and conservatives. That is something all champions of women's independence should cheer.
Judge Barrett and her husband have seven children, ranging in age from 16 to 5. As someone who excelled as a legal scholar and reached the pinnacle of her profession as a Supreme Court Justice, Barrett would be an example to women hoping to combine a flourishing family life with a professional vocation. That, too, is something all can applaud.
Barrett would also complicate assumptions surrounding abortion that those who support legal abortion, as well as those who do not, should hope are untrue. Defenders of access to abortion argue, frequently with regret, that it is the price we must pay for women's freedom and equality; that it is especially needed in case of "fetal abnormalities"; and sometimes that its opponents—pro-lifers—hardly care about children after birth. Judge Barrett challenges all three assumptions. It would be an arresting rejoinder to these ideas if a reputed skeptic of Roe v. Wade were a working mother of seven children, an adoptive mother of two (both from Haiti), a proud and devoted mother of one with special needs.
It's obvious that Judge Barrett needs no special preferences. On character, temperament and intellect she is the top of the top—of any group. But when choosing from the top of the top, presidents can and do consider other ways in which a candidate might contribute to our national life. There's a wealth of them here.
When Judge Barrett was nominated for the judicial position she now holds, she was the victim of anti-religious bigotry, including, deplorably, from some senators in connection with her confirmation review. At one point, Senator Dianne Feinstein infamously intoned to Barrett, speaking of the judge's Catholic faith, "the dogma lives loudly within you." American Catholics know exactly what rhetoric of this type suggests and has historically suggested. It implies that Catholics are pawns of the Pope, willing—perhaps eager—to impose Catholic beliefs on others, and that they are unfit for office in a pluralistic democracy.
Barrett was also smeared for her family's membership in an interfaith charismatic religious organization, a majority of whose members are Catholic, which was derided as a "cult." It is in fact a group remarkably like other charismatic and Pentecostal religious groups around the country, Protestant and Catholic, whose members dedicate themselves to prayer, service and mutual support. Hundreds of millions of people, not only in the United States but also throughout Africa and Latin America, belong to such groups.
A Barrett nomination, following so grotesque a display of anti-Catholic and anti-religious bigotry, could drive a stake through the heart of what has been called "the last acceptable prejudice among American elites." That is something all people of good will could cheer.
Robert P. George is McCormick Professor of Jurisprudence and Director of the James Madison Program in American Ideals and Institutions at Princeton University.